As mentioned yesterday at the end of the pre-quarter workshop, we're supposed to be "devoting a portion of our weekend" to finding relevant course materials for our course theme.
But I already have all the stuff I could possibly want for my course theme–and more–thanks to social networking sites online that pointed me to the right content. And I honestly, really think that given 15 to 20 minutes to search some social networking sites, I could populate a list for almost anyone's English 110 course theme.
To prove it, and to show you the sites that I recommend for finding those relevant materials, I threw together a little screencast. In this screencast, I search several popular social media sites to show you how easy this really is; I use the hypothetical course them "superheroes" to uncover sources. Try it with your own course theme!
Links to the Social Networking Sites Featured In This Screencast
Image via
CrunchBase
Image via
CrunchBase

Image via CrunchBase
Twitter Search


Image via CrunchBase
Hashtags.org (ps, I forgot to mention this in the video: When you find a hashtag in Twitter, you can go back to Twitter Search and search the hashtag for something like #superhero. Don't forget the pound sign!)
Evernote.com: A fantastic desktop, mobile, and browser-based utility for storing and tracking all of your English 110 course theme materials. Here's Evernote's own "quick pitch video" if you need further convincing:
In a future post, we'll talk about using Twitter to find–and follow–people who Tweet frequently about your course theme and/or about your professional interests. But for today, happy course material searching!
Teaching peer review for writing workshop is a pretty dry topic. So often, we end up sounding like elementary school teachers who are telling our students to "play well with others."
But a Tweet this morning by someone looking for "a fun, informative, FYC-appropriate YouTube video introducing peer critique" me to go shopping for Internet videos that might jazz up the "how to behave during peer review" spiel.
This Vimeo video, a skit made by college students of lazy/inattentive/inappropriate peer review behaviors, takes inappropriate peer review behavior to another level–a moderately funny one.
Creative Writing, Episode 1 "Scraps" from Chris Loughran on Vimeo.
This video from Teachertube features 5th graders using words like "bozo." I think I'd tell my students, "If 5th graders can handle this process, surely you can handle this process."
Anyone else have great peer review video suggestions? Please share them!
Firstly, hi to my new readers! Please feel free to share this link with your other teaching friends, and contact me if you have a request for a specific topic, etc.
One of the biggest hassles of teaching student blogging is having to check the blog for updates. Even if you are diligent enough to check the blog regularly–and I am not–it's strongly tempting to not read all the blog content. You just cruise over, make sure something's written there, and leave.
And that is bad. I say that because one of the best ways to keep your students engaged in the blog, and more importantly to hook it effectively to the rest of your curriculum, is to know what's happening on the blog as it happens. If someone posts a piece of rhetorical gold 30 minutes before your class sesh that's completely relevant to that day's class topic, wouldn't you want to know? I would.
Which brings us to the magic that is Feedburner email alerts sent every time someone updates your blog. You can do this for blog posts, new blog comments, or both. And all the better if you could entice your students to email-subscribe to the blog content too.
Step One: Enable Email Alerts for Your Blogger Blog

You may have noticed this box in my right-hand sidebar:
You can guess what happens if you put your email address in that box. You, too, can have one of these on your class blog.
You actually already have a Really Simple Syndication feed automatically through Blogger, but to get this badass email subscription feature, you need to route your RSS through the free Feedburner service run through Google.
So step one is to go to Feedburner, log in using your Google account, and enter your blog address in this box:
After you confirm your account, you'll get a complicated screen like this one. Get on the Publicize Tab, choose the Email subscription option at left, ignore the potentially intimidating advice to cut and paste the piece of code, and instead click on the little drop-down widget menu to choose Blogger.
You will be automatically re-routed to Blogger, where Google will baby you through placing this widget onto your Blogger sidebar.
Step Two: Subscribe to the blog via email
We're all grown-ups here, so I won't tell you how to enter your email address in a box and press submit. But I bring it up because it's an option you'll want to offer to your students. If they are getting regular email alerts about the contents, they are more likely to visit the blog in response–possibly during that Chemistry class that they can't stand, but hey, a blog view is a blog view. I suggest projecting the blog screen on your computer lab day and inviting them to use the subscription widget.
Step Three: Consider subscribing via email to blog comments too

This is unfortunately more cumbersome than subscribing to the main blog posts via email, but if you're already receiving an email for every new blog post, it isn't too bad. You'll just have to remember to subscribe to comments every time Feedburner alerts you to a new thread; there is no global subscription option for every blog comment on an entire blog.
If you look at virtually any Blogger blog, there's an unassuming little line next to the Post a Comment box. On our class' sample FYW blog, it looks like this:
When you click that button, boom you are instantly subscribed to that post's blog comments. So every time I get a Feedburner email notification of a new post on my class blog, I visit the blog and click that button to subscribe to the new post.
This is a great idea even if you don't formally discuss the blog or its comments in class (which you should, PS). You can use the email subscription feed to watch for blogging trouble in Paradise, to make casual off-hand comments to students before class or during breaks that implicitly say "Hey I've got my eye on that blog and I want you to know that," to compliment fantastic student contributions, to find holes in your student's understanding of relevant analysis techniques, to discover an unexpected student enthusiasm for some trend you could have never predicted (like pathos or feminism, etc.), and so on.
Finally, a blatant pitch for my future posts: No really, you should subscribe to this blog by email so that you can catch my future posts (or at the very least follow me on Twitter because I do Tweet every time I make a new blog post, among other things). You can also follow me on Facebook but I post a lot of random stuff there–my Twitter is more focused on teaching with tech. I'm hoping to keep this series going during the school year in response to friend and reader requests. Some other things I'm hoping to cover this week include
–Simple steps to make your blog feel less fake and more like a learning community
–Screencasting for knowledge content delivery, student technical problems, etc.
–Holding virtual or asynchronous class sessions/office hours without pain (psst, if you teach the Wednesday before Thanksgiving like I do, this one's for you).
–Twitter as Professional Development Tool – and you can get 90% of the benefits just by lurking without ever sending a Tweet of your own.
Thanks for dropping by! Happy last day of Pre-Quarter Teaching Workshop!
We talked grammar last Friday and I forgot to blog about it. I'll keep this one somewhat short, promise.
Momentary Detour: Get Thee a Grading Timer
I noticed during our assessment workshop with Tim that folks were grading really, really, really slowly. Think of it this way: 24 students times 10 minutes each = 4 hours of grading, and that's not including time for mental breaks, uploading and downloading files, etc.
If you plan to have a social life this quarter, you'll need to learn the art of quick, efficient, focused grading. A timer is the quickest route to that Rome, and there are plenty of fantastic free digital versions. For Mac, I like Minuteur (pictured at right). For PC, I like TimeLeft.
Grammar Stuff
Cover of
The Everyday Writer
Okay, I know I said "online resources" but one of my Top 10 Most Crucial Teaching Tools for anything, including grammar, is one of those big, fat, honking, spiral-bound grammar guides. I keep it on my office desk–in fact I slide it under an in/out tray so that students don't see it and fixate on it, but if we need it, it's right there. Students really don't mind when you look something up for clarification, and in fact they often feel reassured that you're not feeding them a line of bull. If you're using a good grammar guide, you can show them an example of the problem/fix in the text itself. I happen to like The Everyday Writer 3rd Edition by Andrea Lunsford, but A Writer's Reference by Diana Hacker or Ann Raimes' Keys for Writers are fine too. Whatever floats your boat. They're like $4 used on Bookfinder.com.
The Mighty Purdue OWL
When I started teaching, I used to assign a condensed version of The Everyday Writer called EasyWriter. I had nothing against EasyWriter except the cost, and these days I just bookmark The Purdue Online Writing Lab (OWL). It's basically an online grammar and style guide, totally free, with tons of examples/handouts/worksheets for you and your students' use. The MLA Style Guide is particularly helpful.
The Oatmeal Comics
If you haven't discovered the online graphic essays at The Oatmeal, then it's time to crawl out from under your rock. His series of grammar comics are hilarious and slightly offensive, which in my opinion helps the grammar points come alive. I fully intend to assign "How to Use a Semicolon" to my students for content and as an exhibit for rhetorical analysis. Dinosaurs, gorillas, and grammar: it's a match made in rhetorical heaven.
When to Use i.e. in a Sentence
Ten Words You Need To Stop Misspelling
Using Delicious.com To Find Amazing Grammar Resources
We're only 90 minutes into blogging discush in the PQW, and I can already tell that blogging will be, um, a point of contention in the curriculum. I hope to make it a little less painful with a series of class-blog-related techie posts.
I should say first off that I will be using WordPress.org for my own student blogs, but all of these PQW posts will be focused Blogger since that's the recommended/endorsed platform for OSU English 110. If anyone wants to talk WordPress.org (or .com), chat me up in person.
Customize Your Blog Theme
Blogger.com's native interface is fugly. Look at the narrowness of the text space–I've shrunk this sample Blogger blog so that you can't read the content (to protect the innocent author), but look at how little of the screen interface is actually devoted to text:
In a department where we allegedly believe in good visual rhetoric as a complement to print, please don't let this be you. Change your blog theme, preferably to something with a more spacious area for text.
This brings us to this important idea: If you don't know how to do something in Blogger, don't email me about it–just Google it. With millions of people on this platform, someone else has already had your problem and written a tutorial. For example, look how easy it was to learn how to change your blog template in Blogger.
The same "Google It" advice applies to finding Blogger themes, but these three sites will get you started:
For example, in case you were wondering, this blog that you're on right now is "dressed" in the Simplo Theme, to which I added a few simple custom colors and a custom banner at the top.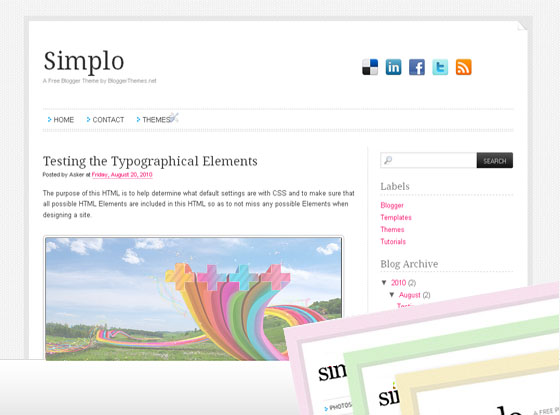 Don't be afraid to try themes out. Themes are like clothes: you can change them any time you want. In fact, I plan to start with a provisional blog theme but later have my students nominate/vote on themes that better suit our class ethos. It's only fair that they have some say in our collective rhetorical space.

Make the Blogger Comments Feature More Awesome

Blogger comments don't have to be text-heavy, boring, and yucky. Some simple changes can make them conversation and inviting.
1. Add a "reply" feature to your Blogger comments so that students can easily figure out when other people are replying to them. Blogger doesn't technically support this feature, but it's a super easy (and entirely legal) "hack" to add it. You can see the effect in the picture–notice original author comment and then the @Anshul indicating that the second reply is in reference to Anshul's first comment. So for example, a student named John could easily see posts marked @John in reply to his original post.
2. Teach your students the HTML codes for bold, italic, and hyperlink. It's not hard. Give them all a worksheet about it, invite them all to comment on a "dummy thread" together in the computer lab to practice, and then send them off into a happy world of improved commenting. If you don't know how to do this yourself, Google it or start with this blog post as the basis for a great workshop. And when you've written said worksheet, please send it to me! 🙂
3. Teach your students to make awesome comments. No need to reinvent the wheel here:
4. Teach yourself, and your students, to make blog posts that encourage great comments. Darren Rowse of Problogger has some great thoughts on this too. Teaching thought: break students into small groups on computer lab day, send them out to find an effective blog post that embodies one of Rowse's eight comment-encouraging strategies, and have them share those links with the class.
Whew! That's enough fun for one morning. I have much more to say, but stay tuned for the next post for that! Feel free to ask questions in the comments below.
Today's PQW topic was assessing one of the print-based essay assignments that's integral to the English 110 curriculum.  MS Word's "comments" feature was pumped pretty hard last week as an ideal grading platform, but some folks reflected anxiety about the logistics of grading via MS Word.  For those who are still sweating it, here's some tips from an MS Word Comments Veteran.
Image by Travelin' Librarian via Flickr
Ugh, my student sent me a document in a format that I can't read, like Microsoft Works or Wordperfect!: Dude, it's cool–just run it through Zamzar.com, which will convert it for you (free!) to a format that you can read.  Think Zamzar can't handle that file format?  See the mind-bogglingly lengthy list of compatible filetypes here.
Or you could track the student down, and insist that they resend the file in another format.  Which is a hassle.  Ask me how I know.  On the other hand, it's a very fine idea to recommend Zamzar to your student in your assessment feedback so that next time, with any luck, they'll use Zamzar themselves.
What if my students can't see my MS Word comments because they don't have MS Word?: The advice given in the workshop was, "They can access MS Word at any public computer lab."  That's true, but it's also a drag for the student.  Unless the student flat-out doesn't own a computer, they probably CAN see the comments without MS Word.  I've listed the options below, from most universal to least universal:
Google Docs: Any MS Word document uploaded to Google Docs will display the comments authored in MS Word.  And if you're an OSU instructor who's already using Blogger as your blogging platform, your students already have the Google Account that they need to access Google Docs.
OpenOffice: A totally free alternative to the whole MS Office suite that works on Mac, PC, and Linux.  OpenOffice Writer is the sub-program that is designed to mimic MS Word, and Writer can read MS Word comments.
Microsoft Word Viewer 2003: Unfortunately it's PC-only, but Microsoft does provide this free viewer for those who want to read MS Word files.
Political Geek side comment: Let's notice that you can also grade in Google Docs and OpenOffice.  And one of these wonderful days the pre-quarter workshop will talk about video/audio/screencasting as grading tools, but MS Word is baby steps in the right direction.
Since August 30, I've been spending 4 hours each weekday in the Ohio State University English Department's Pre-Quarter Teaching Workshop.  In general, it's a fantastic workshop where new teachers are getting great advice.  But as OSU English's resident "latest and greatest in online tools" geek, some of the technology advice feels–well, kind of old fashioned.  Some of the slightly older technologies like Wordle are making the cut, but many tools are not even blipping on the radar.
And I totally get that–there's a lot of training to cram into just 48 contact hours, and things like syllabus creation and "how to operate your classroom's projector" must take priority.  But I know that my fellow students are excited about these tools because they're either asking me about them, raising concerns that would be facilitated by using one of these tools, or–most commonly–noticing me quietly using the tool and then getting pretty psyched when I explain how it works.
So I'm devoting this post to some of the technologies that Pre-Quarter Workshoppers might appreciate in their classrooms based on conversations from the past week.  Almost all of which, I should add, I first learned about from my Twitter PLN, so if any PQW'ers want to talk to me about Twitter as a great pedagogical resource…
If you loved today's demonstration of a Wordle of Barack Obama's weekly address, you might also like the visualization tools at ManyEyes. Similar to Wordle, ManyEyes offers easy technology-facilitated ways for students to encounter words in new ways.  For example, this ManyEyes Word Tree shows how a given word like "election" is used in the context of Barack Obama's speech.
Regarding the hell that is sharing a last-minute file on Carmen, the OSU course management site: Sometimes, files aren't "permanently important enough" to warrant placement on your Carmen site.  Or more commonly, it's a tool that you want to share at the last minute–maybe something that came up during class that you didn't even realize you'd need–and the number of clicks/screens you'd have to go through on Carmen to place it on Carmen, plus the amount of time it would take students to refresh their Carmen page, would make sharing it via Carmen a huge pain in the tail. If I need to share a file on the fly and I want to minimize the time and mouse-clicking that that will take for both students and myself, I like to use Drop.io. In a matter of two or three clicks, you can instantly create a URL where students can go to retrieve up to 100MB of files.  That's what I did today in the PQW when we suddenly needed a way to share an screen-captured version of a Wordle–I built an instant Drop.io at http://drop.io/1jrinrf.  The screen capture of Wordle is still there if you want to use it (for Mac users, I screen-captured that Wordle with the free program Skitch).


Sharing a Long URL Quickly and Painlessly – Let's say you wanted to share the url http://manyeyes.alphaworks.ibm.com/manyeyes/visualizations/word-tree-of-barack-obama-weekly-a with your students, but you didn't want them to have to type all that nonsense into their browser.  You could create a shortened URL, then write that URL on the chalkboard or project it in big font in MS Word so that all your students can see it– For example, I could shorten the ManyEyes link to http://is.gd/f1m7b.  There are dozens of URL shorteners, but I happen to like http://is.gd/. Bit.ly and TinyURL.com are other good choices.
Save a Youtube video as a permanent file with KeepVid.com — as demonstrated several times during the PQW, Youtube and OSU wireless don't always play nice.  Fortunately, there are lots of web sites like  KeepVid.com that will stream Youtube videos into permanent files.  Tubeminator.com is another good one, but I like the simple interface at Keepvid.


Link to exactly the part of a Youtube video that you want students to see — it's as simple as adding #t=03m22s (#t=XXmYYs for XX mins and YY seconds) to the end of a URL.  Why do this? To avoid having to find the spot yourself in front of your bored/waiting students, to post a link on your course site that will take students right to the interesting part, or to have Youtube start cacheing your video at exactly the spot that you're trying to view (instead of automatically starting to cache at the video's beginning, which means it has to re-cache when you change the queuing point).
Using social networking tools for academic research: During today's computer-library-research sesh, I sat next to a fellow grad student whose course theme focuses on extremely recent current events–events so current that they don't often appear in the OSU Library's academic research databases.  We agreed that libraryacademic databases still had value–for example, you can find lots of relevant academic articles about oil spills or BP that pre-date the recent BP oil spill–but what if you want info that's **extremely** current, like up-to-the-minute current, and you don't just want CNN.com and other newsy feeds?
I took the aforementioned grad student to Hashtags.org, a site that shows the frequency of certain Twitter hashtags and shows the latest Tweets for that hashtag. For those who are not Twitter folks, hashtags are organizing words that start with the # key and help people on Twitter keep track of a "trending" topic.  You can search hashtags without having to actually participate in Twitter.  For example, this fellow grad student typed in "gulf shrimp" and immediately discovered that it was a hot topic on Twitter on September 6, just three days ago–and it showed him dozens of Tweets that linked outward to legitimate research sources about the BP oil spill's effect on the shrimp supply.  It also revealed other relevant hashtags like #bp and #oilspill that can be used for further research.  PQW'ers, try this with one of your own course-theme keywords and see how it goes!
Another great hashtag resource is TwapperKeeper and other Twitter archiving tools. You might have noticed that hashtags.org only searches tweets from the last few days, which is because Twitter only publicly indexes tweets for that short period.  But for older tweets, you luck out, someone on Twitter may have started a TwapperKeeper archive of a given hashtag.  For example, the Twapperkeeper archive for hashtag #citizengulf records impressions of the oil spill since 6/29/2010.
Delicious Bookmarks as research keyword brainstorming tool: Delicious Bookmarks is an online "social bookmarking" tool that allows people to publicly share bookmarks with each other.  But what makes it particularly valuable as a research tool is that you can not only search bookmarks (and return results based on the popularity of the bookmark), but Delicious sorts information based on "tags" that associate content.  So let's say I've got a student who's been using the research keyword "hospital" but is stuck on alternative possible keywords.  If we type "hospital" into Delicious, look at all the wonderful "tags" associated with "hospital" links that the student could use for research!.  And the more specific the search, the better the "tag" returns will be.
Encouraging Positive Digital Participation with Backchannelling: PQW participants were understandably concerned about the use of Facebook, texting, etc. as a distraction mechanism in the classroom.  When I started teaching, I forbade those things in the classroom altogether–but as discussed in the PQW, sometimes students are using those technologies to participate positively in the classroom, either by finding relevant resources or resolving questions or concerns that they're reluctant to raise in class.  Using a backchannel platform could help capture that participation and bring it back into your classroom.
For example, let's say a student has found a great digital resource, or wants to ask a question but feels like they can't interrupt the conversation in progress, etc.  Edmodo.com has a great interface to capture that "back chatter". It essentially creates a real-time Facebook-like feed that is specific to your classroom.  Imagine projecting this feed during a conversation so that students could add resources as they find them, ask questions, redirect a conversation, or share an idea.
If your focus is more on student questions, then Google Moderator is another option. Students can ask a question on Google Moderator, others can vote the question up or down to raise its priority in the question list, and other students can share resources or comment on those questions.  Not only could this be used during a class conversation, but it could be a useful space for students to ask homework questions.  Ever wondered if all of your students are secretly wanting to asking the same question that they think is "too stupid" to ask?  Google Moderator could ferret that question out.
That's it for now, but I hope to make a few more posts in this series as the Pre-Quarter Workshop continues.  Happy Web 2.0 tooling!
A few weeks ago, I upgraded the hard drive in Mac (running OS X Leopard 10.5.8) and used Time Machine to restore the data and settings from my old hard drive. The problem–which I had read about and predicted before the hard drive switch–is that Time Machine doesn't bring your Printer Settings with it. No problem, I thought. I'll just reinstall the printer drivers and everything will be fine. WRONG. I couldn't get either of my two Brother printers, a USB-connected HL-1440 and a networked MFC-7440N, to print anything. I kept getting errors about the "CUPS" and "operation-not-completed-client-error." Commence Google searching to solve this problem. I did eventually find the solution, which is surprisingly simple, but I must have visited 10 web site before I cobbled it together the solution in full. So here it is, in one easy to digest package. 1. To make this work, you'll have to be able to see a hidden file directory called /etc/cups. If you can already see the directory Macintosh HD -> private -> etc -> cups in your Finder, then you've already got your Finder set to show you hidden files. But I had apparently hidden my hidden files, so I couldn't even see the "private" folder, much less the "etc" or "cups" folders. To un-hide your hidden files, open the application Terminal. Enter these two commands: defaults write com.apple.finder AppleShowAllFiles TRUE
killall Finder Ta-da, now you can see hidden folders and files. 2. Enter Time Machine. Scroll back to whichever backup pre-dates your system restore with Time Machine. Navigate to Macintosh HD -> private -> etc. Highlight the "cups" folder and click "Restore." 3. Try printing something to see if your problem is fixed. Mine was fixed. But if you still have issues, you could try restoring all the files and folders that OS X accesses when adding a printer: /Library/Preferences/.GlobalPreferences.plist
/Library/Preferences/com.apple.print.makequeues.plist
/Library/Preferences/org.cups.printers.plist
/etc/cups/certs/0
/etc/cups/ppd
/etc/cups/
/Users/yourshortname/.cups/lpoptions
/Users/yourshortname/Library/Preferences/com.apple.print.add.plist
/Users/yourshortname/Library/Preferences/com.apple.print.PrintingPrefs.plist
/Users/yourshortname/Library/Printers/(your printers) 4. If you wish to re-hide your hidden files, go back to Terminal and type in these two commands: defaults write com.apple.finder AppleShowAllFiles FALSE and secondly, killall Finder And if you are not an IT professional or a certified geek, this would be a good time to CLOSE TERMINAL because it is powerful joo joo. If you attempt to ask followup questions in the comments, I must warn you that I am not a Mac expert and will probably advise you to try macforums.com.
Thanks to CrockPot365, I've become
increasingly addicted to making homemade yogurt in the crock pot. There's only two people in our house, so it's not unusual to have
a quarter or half gallon of milk that's a few days from going bad, and
making it into yogurt saves me from throwing it away. But this week I
got carried away and made an entire GALLON of yogurt, so I'm looking
for new and novel ways to use it up.
Thank goodness for the Allrecipes.com ingredients search. I culled
these from the top-rated recipes that contained yogurt. Ideas I'm
gathering from Allrecipes:Tandoori chicken
Biscuits (notice the link in this recipe for a homemade biscuit mix)
Fruit Salad —they specify strawberry or lemon yogurt but I'm thinking it would
work with homemade yogurt + lemon juice and/or honey
Cornbread Pasta that's creamy but lighter than something with a cheese sauces
Put it in Baba Ganoush and Creamy Hummus
Yogurt cheese, a good substitute for cream cheese
And while we're talking yogurt cheese, you can use that to make
CHEESECAKE
And if you're gonna make cheesecake, might as well use more yogurt
for the Graham Cracker Crust Drool. I think I'll start with the pasta and the cheesecake!
I just got out of a symposium session called "Enhancing the
Information Capacity of Individuals" at an OSU Symposium called
"Informing Ohio Communities: A Symposium on the Knight Commission
Report". I got a nifty free copy of the report for going to the sesh,
but you can download it at http://report.knightcomm.org/. I was
impressed with the report's executive summary and hope to assign it in
the future to one of my freshman comp classes; it could start a great
discussion about community and social literacies.
Before I start blabbing, a list of participants: Moderator
Brenda Brueggemann, Professor of English; Coordinator, Disability Studies Speakers
Richard Voithofer, Associate Professor of Educational Technology
Patrick Losinski, Executive Director, Columbus Metropolitan Library
Tom Fritz, Executive Director, Connect Ohio
Gary Cavin, Chief Information Officer, City of Columbus
Osei Appiah, Associate Professor of Communication Discussant
H. Lewis Ulman, Associate Professor of English; Director, Digital Media Studies Things that interested me at this sesh: Brenda Brueggemann, who designates herself as hard-of-hearing, said "I
was never deaf in the library" and that the Internet has helped expand
that information freedom beyond the walls of the library. Richard Voithofer asked, "Is it time for public education to get out
of the content business and into the literacy business? Proposed that
we begin talking about a literacy called "community literacy" about
how 2 engage groups to meet particular goals. Voithofer furhter observed that young people are often "faking tech
literacy". This reminded me of the argument made in Bartholomae's
"Inventing the University" regarding students who fake academic
college written literacies. I learned a lot from the panelists about the state of the city of
Columbus re: literacy and broadband access. According to Voithofer,
the Columbus Literacy Council identified 100,000 adults in C'bus who
are not reading at the 4th grade level. Columbus Public Library Exec
Director Patrick Losinski said that in the workshops the Columbus
Public Library system holds for at-risk parents, many of those teenage
parents have never had a book read to them. They experience the joy
of reading with children for the first time EVER in these workshops.
Crazy! I also learned that Ohio is one of two states that funds libraries at
the state level and that the desire for broadband access among library
users is so high that Columbus libraries have queues of up to 3 hours There was a lot of chatter about public broadband access and how in
some places such as Finland and Spain, it's construed as a legally
enforceable right. Someone, I can't remember specifically whom,
talked about how 70 percent of U.S. landmass has broadband access
available, and that covers 95% of the population. However, some of
those 95% choose consciously not to use broadband in the home, either
because they can't afford it (and many of those folks rely on
libraries for broadband) or because–more surprisingly to me–they
don't see the need for it. Someone told a good story about an IT tech
guy who didn't have broadband and didn't see the need for it until his
paper boy started failing to deliver his newspaper in a timely
fashion. The guy got broadband so that he could access the paper
early in the morning. Louie Ulman, who was the discussant, made a great list of things
(based on the previous presenters/discussion) about things that one
might desire for a citizen to be able to DO with information once
they've got it: subscribe to it, query it, discuss it,
cross-reference, etc. Might be interesting to hold a sesh JUST on
that–what things we would want a community literate citizen to be
ideally able to do with information. Wish I could have stayed longer at the sesh, but alas, I had to run
off to a Final Cut Pro workshop!